Development of High-Quality Human Resources
The Septeni Group has set up "the Human Capital Lab," which exclusively studies human resources data, in order to maximize the performance of each and every employee. Its findings are used in the making of management decisions and the development of human resources.
Purpose of research
The Septeni Group was founded in 1990, but it began shifting the focus of its business to the Internet in 2000, when the Internet was still in its infancy. The Group has continued to grow in tandem with the Internet industry, confronting various organizational issues along the way.
The Human Capital Lab conducts research to clarify the "structure of human resource development" in growth industries from a scientific perspective and to share it widely by integrating and analyzing the vast amount of data on human resources that we have accumulated over the course of our growth. We continue to be active.
By taking a scientific perspective and using actual data to communicate the organizational issues that the Company experienced in the process of growing, we hope to provide some clues to other corporations on how to solve their issues, particularly corporations facing issues specific to organizational growth.
Research structure
"The Human Capital Lab" is part of the SEPTENI HOLDINGS CO., LTD. Its dedicated researchers conduct research that aims to help enhance recruitment and human resources development. The research findings will be published on this website as sources of reference for recruitment and human resources development activities.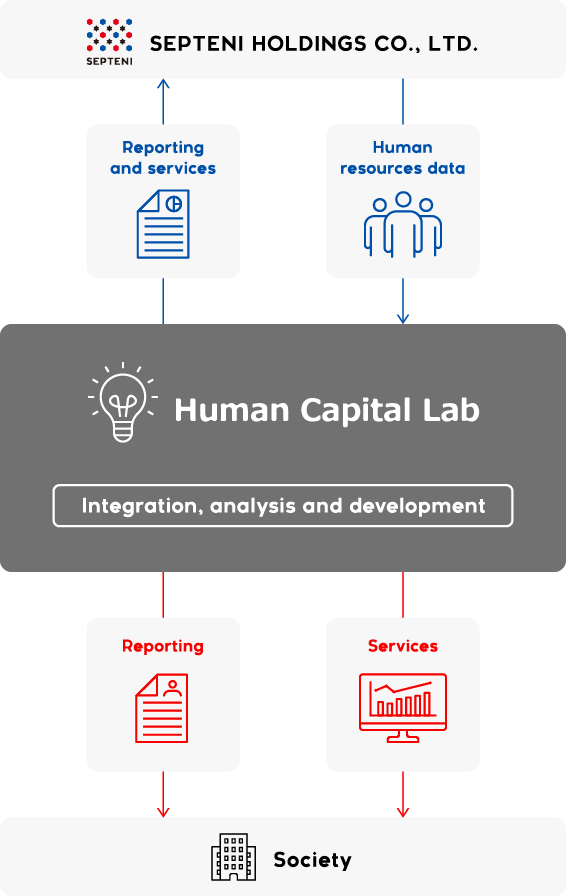 Concept and themes of research
The Company has changed its definition of human resources development from "the provision of knowledge believed to be necessary and 'cultivation'" to "'growth' through good experience at work," and scientific measurement and evaluation of the growth.

Based on this definition, the Company has developed the concept of a "Formula of Development." The Company is always conducting research based on this concept.

The Human Capital Lab conducts research in four areas: recruitment, adaptation, development and alumni network. We conduct research using actual data from the period of our growth, from the time when we only had tens of employees up to the present, when we have around 1,000 employees, aiming to provide an answer based on figures regarding human resources development.
The Human Capital Lab
Sharing of research results and open innovation
We make public internal cases and research results. We create innovations through joint research and by other means.
Digital HR Project
We are conducting the Digital HR Project, which analyzes human resources using the power of data and technology, centered on our HaKaSe AI engine that analyzes data using our Formula of Development. To help resolve personnel issues, we have made more than 15 HR solutions and over 30 research reports publicly available. They can all be viewed on the project website and used free of charge by registered members.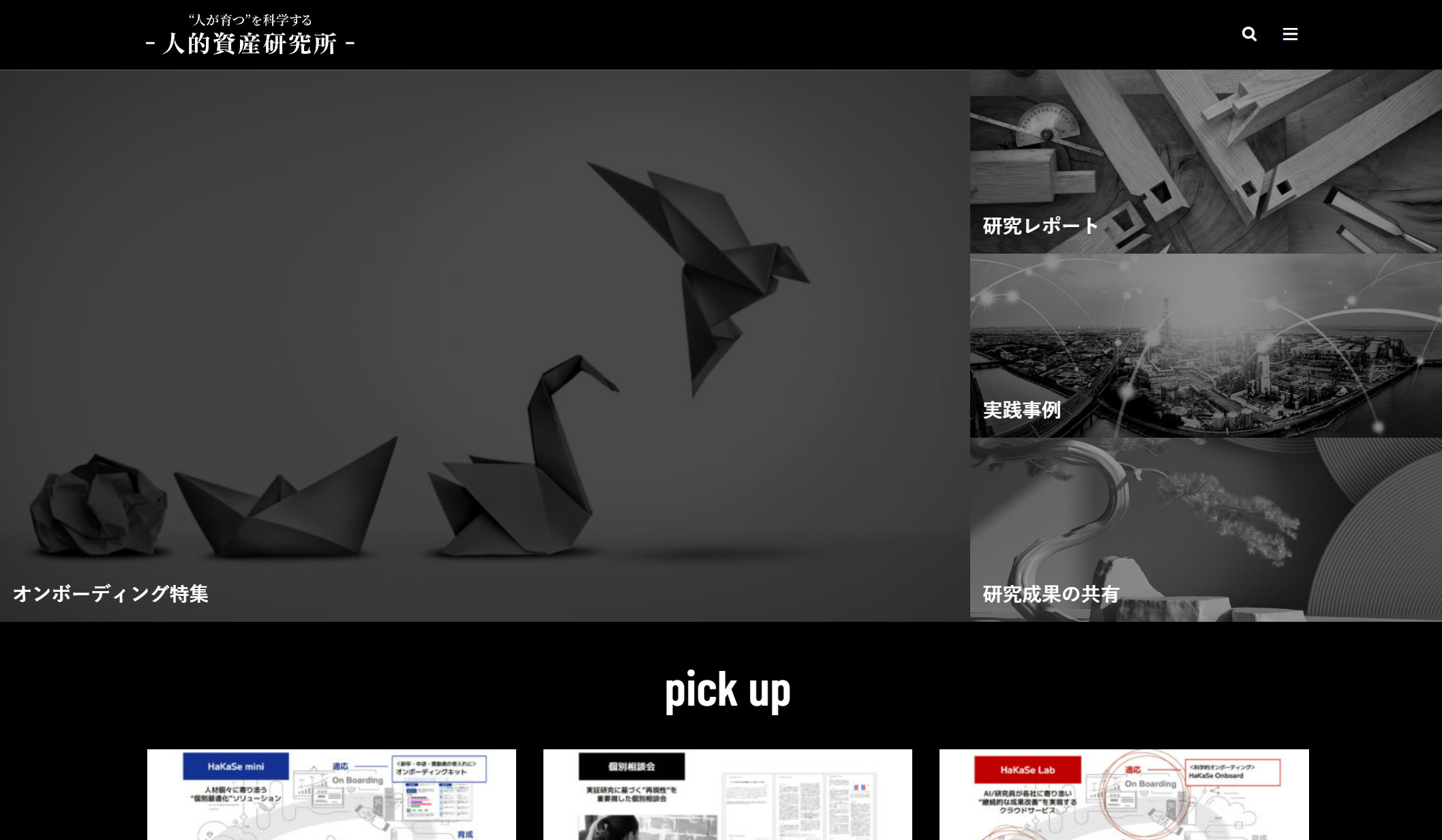 Digital HR Project
Providing HaKaSe mini, a tool for a free trial of Digital HR
We had provided HaKaSe mini, which has some functions of HaKaSe, to the outside for a limited period until September 2020 as a tool for team managers to train employees. It enables the user to review the employees and formulate a development plan in 30 minutes, and create feedback sheets and development plan sheets for everyone. Many users used the tool to experience Digital HR.

Note:
The tool uses the 360-degree review applied in joint research with Emotion Tech Inc.
It also uses the FFS theory of Human Logic Laboratory, Inc. for formulating development plans.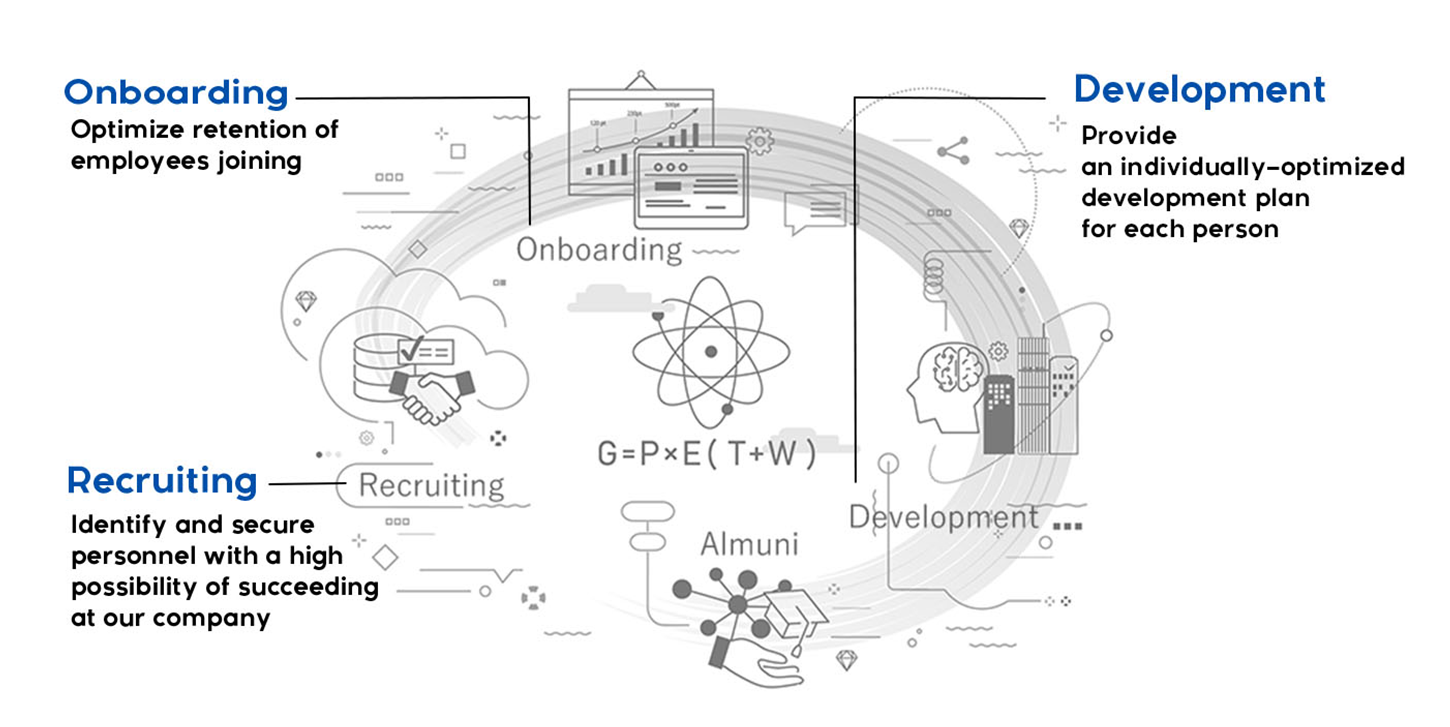 Services and initiatives based on research