President's Message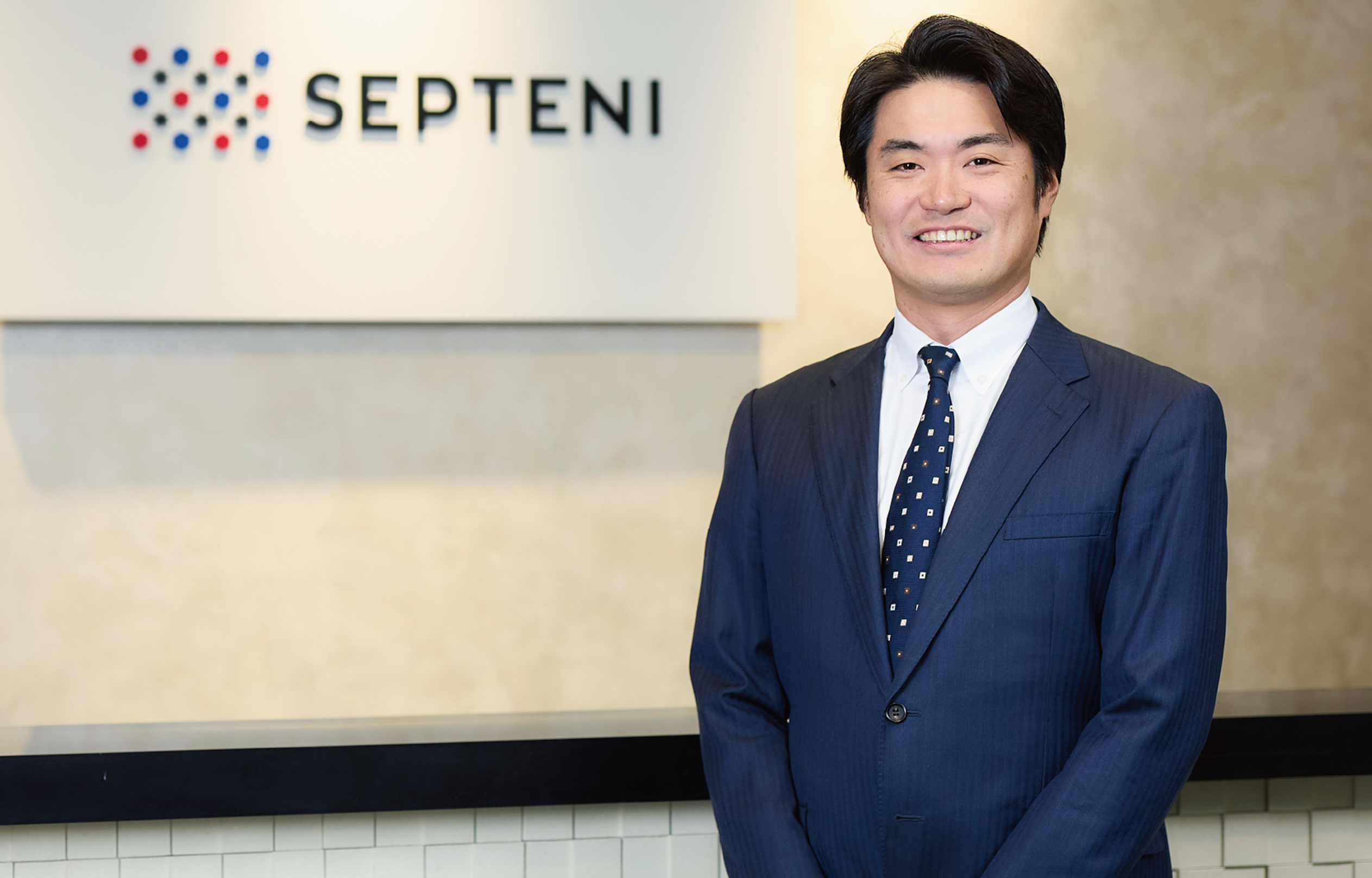 Combining emotion and technology to provide unprecedented value for industry
The Fiscal Year Ended September 2019 Was the Starting Point for Midterm Growth. Moving Forward, We Will Establish a Competitive Advantage through Our Alliance with the Dentsu Group.
Nowadays, more and more of our clients have declared their intention to make digital operations the core of their management. Basing market development strategy and business models on Digital Transformation (DX) is already taken for granted. I feel that top executives at each company are conducting management with a strong commitment to this transformation, which they view as a choice between making the shift or ceasing to grow. The Septeni Group has been quick to take advantage of the move to digital advertising, which is a major market shift, to grow its business.
Looking at our latest business results, consolidated revenue for the fiscal year ended September 2019 increased 10% year on year, and non-GAAP operating profit roughly doubled. In fact, over the past four years, operating profit has actually been undergoing a V-shaped recovery.
In October 2018, at the beginning of the fiscal year under review, we entered into a mutual and comprehensive capital and business alliance with the Dentsu Group. I believe this alliance will generate two benefits. First, having Dentsu Inc. as our largest shareholder strengthens our operations in terms of capital. Second, it enables us to secure a superior position in the field of digital marketing, beyond conventional digital advertising. During the fiscal year ended September 2019, organic growth and the increase in the value we were able to provide to customers due to our alliance with the Dentsu Group contributed to stronger results compared with the previous fiscal year. More importantly, this alliance will be the engine that drives our medium-to-long-term growth strategies and establishes a competitive advantage. Going forward, we will be a key player in the digital marketing field, supporting our clients' evolution and business model innovation, centered on DX. During the fiscal year ended September 2019, we clearly showed stakeholders our determination to take a leading role in empowering such change.
The Theme of Our New Midterm Business Policies: Domain Expansion
Performance advertising and other businesses that we have been involved in have gradually matured. We forecast that results from stepping up our efforts in this market will be limited, so we are facing the prospect of slowing growth if we do not change. In light of this situation, we have made "domain expansion" the theme of our new Midterm Business Policies for the three-year period from 2020 to 2022. We will broaden the DX market beyond online advertising, starting with the expansion of the Septeni Group's operations into fields contiguous to our core businesses.
In keeping with these moves, we have changed the names of our business segments to match the Midterm Business Policies. The Internet Marketing Business has been renamed the Digital Marketing Business to reflect our intention to focus on a wider digital domain as a partner that offers clients strong support in promoting DX. The Media Content Business is now in a monetization phase as a result of intensive investment in the manga app GANMA! over the past few years. With the addition of the smooth launches of new businesses created within the Group, we are building a platform that will link multiple media and products, rather than relying on GANMA! alone. In this way, we are delineating our vision for a future in which each business helps the others grow through their comprehensive strengths. This concept has been reflected in the segment's new name, the Media Platform Business.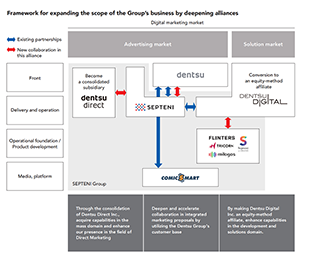 Our Midterm Business Policies are announced based on a rolling plan that is reviewed each year. This is because our uncertain operating environment requires management to respond promptly and decisively to change. Today, it is almost impossible to make accurate predictions of what lies three to five years ahead, unlike in Japan's postwar period of rapid economic growth. Consequently, we have decided to update our view each year in the form of Midterm Business Policies that are compatible with our unique way of doing business. We also have a view of the near future based on our understanding of the direction of major societal changes. However, since such a view can get out of step with the times over three to five years, we have decided to revise it each year. Of course, these revisions do not result in a completely different view, but rather serve to connect the dots in an ongoing story. Our view is a message that describes the kind of role we want to play as part of our relationship with society in responding to change.
Our current quantitative targets for the fiscal year ending September 2022 are revenue of ¥25 billion and non-GAAP operating profit of ¥3.6 billion. As we expand into new business segments, we aim to increase profit by growing revenue.
Using Human Resources Who Possess a Good Sense of Ownership and a Strong Entrepreneurial Spirit to Drive Group Growth
The Septeni Group distinguishes itself by continuously creating markets that have potential rather than following other companies into existing markets. This is because our corporate culture instills in each employee the entrepreneurship to be the first to focus on the growth fields and social issues of the near future, and to create major trends and work toward solutions. Most likely, the key to creating markets is the ability to sense signs of potential and growth in what seems to be, at present, no more than a chaotic situation. In order to drive the entire Septeni Group, we aim to give free reign to capable, sharp people with the ambition and confidence to think and act on their own, without waiting for instructions from top management or their bosses.
In the three years from 2020 to 2022, we intend to concentrate our management resources in rapidly changing fields that have growth potential fields we find truly interesting. We will also continue to invest in our business infrastructure, or our "operating system," with a focus on human resources, as we did in our previous Midterm Business Policies. Over the past few years, we have been stepping up such investment, including the AI-based personnel system centered on machine learning that we developed inhouse. This system uses our enormous database to rapidly develop employees into fully contributing members and optimally deploy them. The system has received positive feedback from many external organizations, and its effectiveness in improving business productivity is clearly evident within the Group. For example, tasks formerly requiring human involvement, such as personnel-related meetings and coordination, have been substantially automated. We have achieved a high level of accuracy in predicting outcomes when assigning or transferring human resources, with the ability to forecast exactly how much a specific person will improve his/her performance if assigned to a specific department. In today's Septeni Group, our accumulated data and technology infrastructure for human resources thus function as an operating system, which we use to create a series of appealing applications (businesses). In addition, viewing social change as an opportunity for new growth, the operating system incorporates our unique corporate culture in which employees create new businesses. These are strengths of the Septeni Group.
Meaningful initiatives such as the business development and investment activities described above have enabled us to provide clearer answers when society questions Septeni's significance and the value it provides. By combining people's energy and emotion with our sophisticated technological infrastructure, the Septeni Group will enable people to demonstrate their unique energy to provide unprecedented value to industry. Based on their good sense of ownership and strong entrepreneurial spirit, our human resources will continue to help make the world a better place.
Return of Profits
To return profits to our shareholders and investors, we have set a target payout ratio of 15% of profit for the period attributable to owners of the parent, and have set a lower limit for dividends per share of ¥2.0 in consideration of the need for continuity and stability in dividends. We will continue to allocate profits appropriately, commensurate with growth in our business results.