CSR Policy and Priority Challenges
The Septeni Group and CSR
Businesses cannot function without a sustainable and sound society. In 2015, the United States General Assembly adopted the Sustainable Development Goals (SDGs). In the international community, there is a strong demand for action that helps to build a sustainable society. The globalizing, diversifying, and increasingly complicated nature of society presents many different problems. Businesses can no longer separate the various impacts of these problems from their business activities. To carry on their business and develop together with stakeholders, it is imperative that businesses actively address these problems and continue working to solve them.
We believe that helping to resolve social issues through business is our unique way of fulfilling the corporate social responsibility (CSR) placed upon us by society and stakeholders. This contribution aims to realize a sustainable society and realize the Septeni Group's mission of "Inspiring the world with entrepreneurship". Inspired by this notion, we will continue moving forward with our activities.
Selection Process for Priority Challenges
From among the many issues facing society, we have established five priority challenges based on a comprehensive determination of what stakeholders expect of the Septeni Group and the importance of the issues to Group businesses. We promote CSR activities in line with these challenges and conduct periodic reviews to update these activities.
Step 1

Identify Issues

Identify Issues Identification of social issues based on the SDGs, ISO 26000 and other international standards

Step 2

Confirm Priority Issues

Confirm Priority Issues Comprehensive determination by the CSR Committee of the importance of issues to the Septeni Group's businesses and stakeholders' expectations of the Septeni Group

Step 3

Specification of Priority Challenges

Specification of Priority Challenges Confirmation of appropriateness and specification of priority challenges by the Board of Directors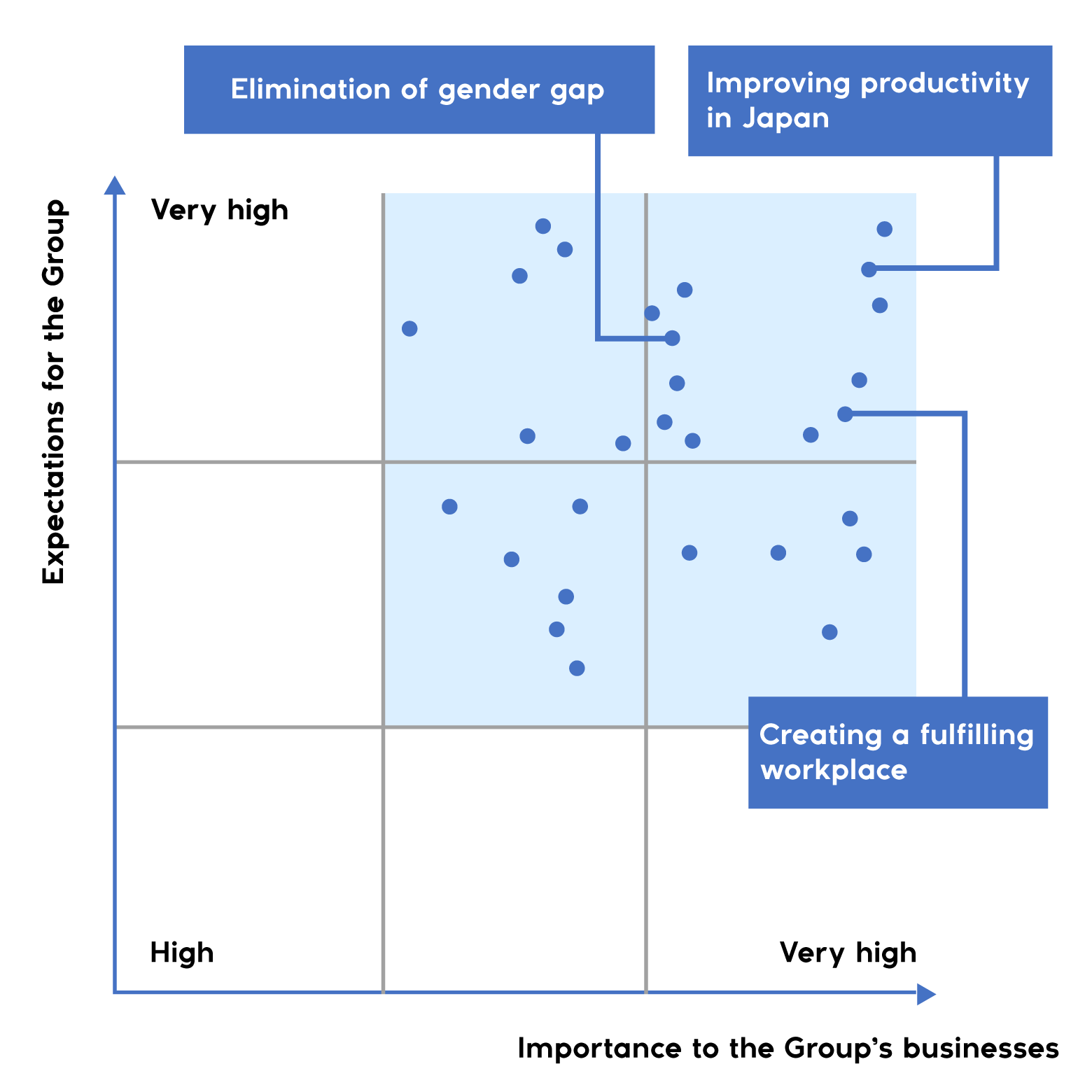 Priority Challenges and Initiatives
Priority Challenge
Main Initiatives in the Fiscal Year
Ended September 2020
Initiatives Planned for the Fiscal Year
Ending September 2021
Contributions to
the SGDs
Diversity and Inclusion

Promotion of women's participation


Group-wide support for women's careers



LGBT initiatives


Awareness-raising activities through LGBT & Allies Network



Measures against discrimination and harassment


Implementation of anti-harassment training

Promotion of women's participation


Group-wide support for women's careers



LGBT initiatives


Awareness-raising activities through LGBT & Allies Network



Measures against discrimination and harassment


Implementation of anti-harassment training



D&I Promotion


Awareness-raising activities through diversity awards, etc.
Support for Culture, Sports and the Entertainment Industry

Support for culture


Provision of the "RouteM" manga artist development program
Support for art university students

Support for sport
Support for top athletes
Formed a professional dance team

Support for culture


Provision of the "RouteM" manga artist development program
Support for art university students



Support for sport


Support for top athletes
Running a professional dance team



Support for Entertainment Industry

Support the SoundDevelopment of the Digital Advertising Industry
Ad verification initiatives
Addressing industry issues
Industry Development through Utilization of AI

Utilization/application of data in HR technology


Formulation and publication of Digital HR Guidelines



Utilization/application of data in digital marketing


Provision of original AI and data solutions

Utilization/application of data in HR technology


Implementation of Digital HR Guidelines



Utilization/application of data in digital marketing


Provision of original AI and data solutions
Development of High-Quality Human Resources
Expansion of the target area for online recruiting
Publication of research reports
Response to social issues using the AI-based personnel system