Midterm Business Policies
Midterm Business Policies
We established new Midterm Business Policies in October 2019.
We have made "domain expansion" the theme of our new Midterm Business Policies since 2020, and we will expand our businesses into fields contiguous to our core businesses.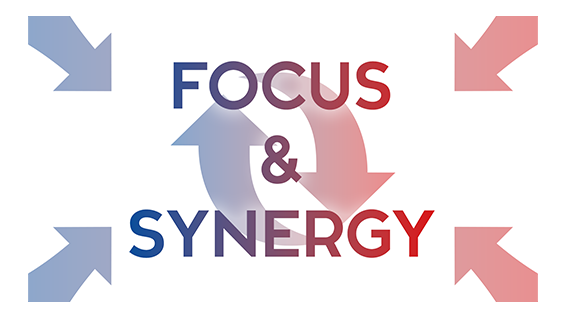 The Septeni Group's operating environment changes quickly and is difficult to predict. Therefore, we utilize a rolling method to review our Midterm Business Policies every year so that management can adapt quickly.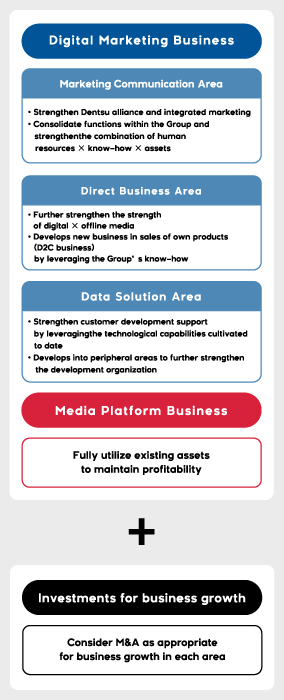 Our last Midterm Business Policies, which were announced in October 2019, adopted the theme of domain expansion and delineated the direction in which each segment should expand. The year since then has seen major societal change due to the COVID-19 pandemic. Consequently, using our rolling method for the fiscal year ending September 2021, we have updated our policies to reflect the "new normal" while also focusing on the significant changes we are seeing now as opportunities for growth.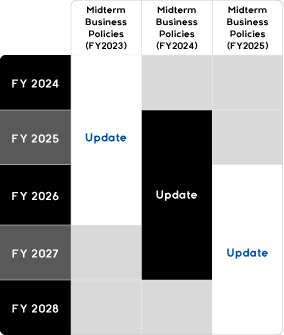 Our current quantitative targets for the fiscal year ending September 2023 are revenue of ¥24 billion and non-GAAP operating profit of ¥4.3 billion. As we expand into new business segments, we aim to increase profit by growing revenue.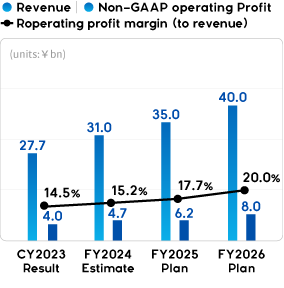 Digital Marketing Business
In the Digital Marketing Business, we will support the promotion of Digital Transformation(DX) in our clients, and promote the DX throughout the industry by accelerating cooperation with Dentsu Group, by expanding our business into the data/solution domain, the brand advertising market and so on. In addition, we will focus the e-commerce advertising domain and the data & solutions domain as growth drivers, develop the domains and strengthen the structure.

Media Platform Business
In the Media Platform Business, each business will help the others grow through their comprehensive strengths due to the platforms that will link multiple media and products, rather than relying on GANMA! alone. In addition, we will expect stable revenue growth by focusing on charges from users, and step up new business development in the D2C domain.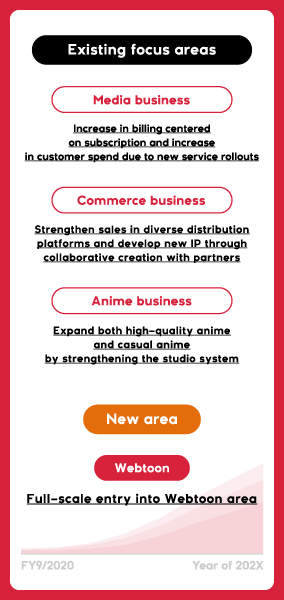 Expansion into New Business Segments
We assume that Digital Transformation(DX) in the existing markets progress and new growth markets are created due to that. We will focus on the markets such as sports domain and assets (real estate, automobiles, etc.) domain, where the industries themselves are redefined through DX.