Support for Culture, Sports and the Entertainment Industry
We support a wide range of activities of athletes,
sports teams and artists.
Support for sports
The Septeni Group is supporting the promotion of athletes, sports teams and sporting events using the expertise that it has developed in the Digital Marketing Business.
Shihomi Fukushima, Top Athlete in Fencing (Sabre)
In April 2018, we hired Shihomi Fukushima, a top athlete in fencing (sabre), as a new graduate. We are supporting her athletic activities.
Main Results
2015
All-Japan Student Championship Individual Winner
2016
U23 Asian Championship Team Winner
All Japan Championship Individual Winner
Mexican Cervo Grand Prix 15th place individually
2017
World Championships 7th place individual
World Championships 4th place group
Universiade team champion
2018
FIE World Ranking 20th
Asian Games 3rd place group
2019
Asian Championships 3rd place individual and 3rd place group
2020
2020 All Japan Championship Individual champion
Toshiya Saito, Top Athlete in Fencing (Foil)
In April 2021, we hired Toshiya Saito, a top athlete in fencing (foil), as a new graduate. We are supporting his athletic activities.
Main Results
2015
All Japan Championship Individual 2nd place
2016
All Japan Championship Individual 3rd place
2017
World Championships individual 2nd place
All Japan Championship Individual Winner
2018
World Cup team 3rd place
2019
Asian Championships individual 3rd place
2020
World Cup individual 8th place
Vegalta Sendai
We have a stake in Vegalta Sendai Co., Ltd. As the digital marketing partner of Vegalta Sendai, we are supporting the operation of the club and the growth of the team from 2020.
When soccer games take place at Yurtec Stadium Sendai, sponsors' logos are displayed in LED advertisements.
SEPTENI RAPTURES
We have formed a professional dance team, SEPTENI RAPTURES, and are participating in D.LEAGUE, a professional dance league from Japan.
SEPTENI
RAPTURES
Support for Culture
The Septeni Group will support artists' activities, using the power of the internet, to contribute to the development of manga and other types of cultural activities.
Support for manga artists
COMICSMART INC., which engages in the manga content business, defines its mission as making manga artist an aspirational career for children and works to cultivate manga artists as well as to distribute manga.
RouteM (http://routem.jp/), a manga artists support program, provides three types of support so that manga artists can focus on creative activity and fulfill their potential in wider areas: (1) distribution support, (2) financial support, and (3) production support
Activities of RouteM

Results
We have more than 100 dedicated manga artists. The total amount of support has exceeded 1.6 billion yen.
The serialized work of many dedicated manga artists distributed through GANMA! has been published as books, animated, and adapted for the stage, and related goods have been produced.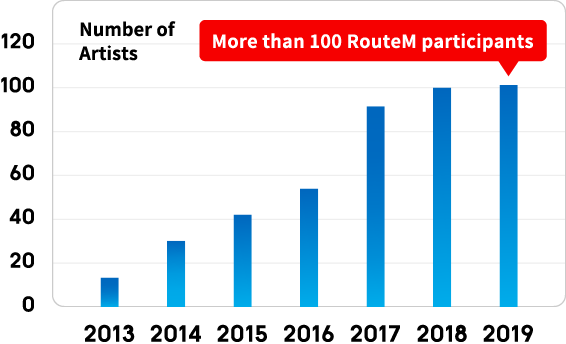 Support to creative students
Vivivit, Inc. operates a matching platform, ViViViT (https://www.vivivit.com/), focusing on searching for and changing creative jobs.
Job-seekers for creative jobs generally send a portfolio of their work to companies. ViViViT enables job-seekers to easily create a portfolio on the web, which will be viewed by companies that are looking for creators. Thanks to ViViViT, which matches job-seekers and companies on the Web, job-seekers can reduce their efforts in preparation and moving for job hunting as well as printing and travel expenses, among other expenses.
We hold ViViViT Exhibition a few times a year.
Of students studying design from across the country, excellent creators are selected through strict skill assessments. They can display their works at the event, and companies can recruit students. We are working to create opportunities for students who are studying creative arts through online and offline initiatives.