Media platform business
Business model
In the Media Platform Business, we have developed many media products, including GANMA!, a manga content app.
In the Manga Content Business, efforts are being made to nurture and support manga artists for the purpose of planning and developing the Company's own intellectual property (IP). At the same time, GANMA! manga application, which consists of original products by dedicated artists, is operated as the Company's own media. The Company also develops platform-type business related to "recruitment," "social contribution" and "childcare" as new businesses born from intrapreneurship.
We will focus attention on growth fields and social issues in the near future and aim to fulfill the vision and mission of each platform, leveraging our entrepreneurship. The companies will combine their strengths and will build platforms together, and the entire Group will grow using its collective strengths.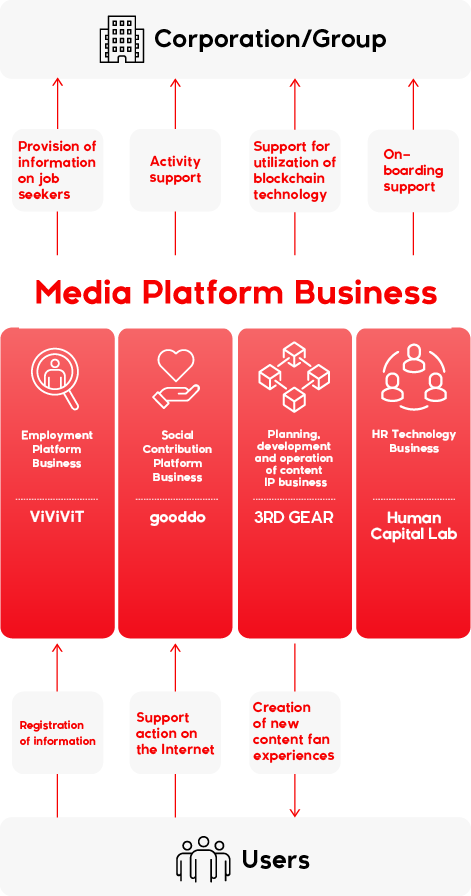 Manga Content Business「Comic Smart」

The business aims to empower manga artists and the entire manga industry through GANMA!, a manga content app that provides more than 200 original works. It features a system that includes rankings that are affected by readers' evaluations and reviews, the posting of original illustrations, and gifts from readers. The system enables readers to directly support manga artists and help them grow.

Employment platform business "ViViViT

ViViViT is a platform for matching designers with jobs through portfolios (winner of the 2020 Good Design Award). To date, 600,000 creative works have been posted, and a cumulative total of 2,700 companies have used the service, creating over 100,000 matches.

Platform business of social contribution「gooddo」

gooddo is a platform for ensuring compatibility between the supporting activities of non-profit organizations and other groups and corporate marketing and public relations activities to provide consumers and businesses with opportunities to make social contributions. Under the slogan of making social contributions into everyday activities, we will construct a system that converts individuals' interest in social contributions into practical actions in a bid to resolve social issues.

Childcare platform business「TowaStela」

TowaStela plans and operates digital media and e-commerce in the field of childcare. It aims to realize its vision of creating a period when users most enjoy childcare through the operation of the e-commerce site Babyful, which adds to the joy of important days for families, and the planning and operation of amanoppo, a gift shop for parents and children.
Group Company List
COMICSMART,Inc.

Manga Content Business

Qzil.la ,Inc.

Animation Production Business

Vivivit, Inc.

Employment platform business

gooddo Inc.

Platform business of social contribution

TowaStela, Inc.

Childcare platform business

Delight Tube, Inc.

Planning, production and management of Internet media

ALPHABLE, Inc.

Management of service of looking for love, and development and sales of cosmetic products